World Class Aviation Technology
Making Flying Simpler, Safer and More Sustainable
About Vistair
Vistair is one of the world's leading providers of Operational Data Management for aviation technical publications, safety, and regulatory content. Our technology leads the way in driving higher levels of safety, efficiency, and compliance. It is trusted by many of the most progressive aviation and defence organisations.
We work in close partnership with our customers, helping them to overcome the complex challenges that they face and constantly creating innovative new technologies that improve standards across the industry for the benefit of all our partners, current and future.

Leading the Industry
We have been at the forefront of innovation and insight for the aviation sector for more than 20 years. From unlocking the power of structured data for operational content in the late 1990s, to developing one of the world's first aviation-specific Safety Management Systems platforms, setting new standards is at the core of everything we do.
Today, we continue to lead the way. Our newly enhanced DocuNet solution is the industry's most powerful and comprehensive service of its kind. Our SMS platform has introduced a whole new level of configurability. And our revolutionary new service, Vistair Intelligence, delivers unprecedented data-driven insights that transform the way aviation and defence business are run.
Together, our knowledge, experience and suite of market-leading products and services puts us at the forefront of an exciting new era for the aviation industry.
We Work in Partnership
Fostering long-term partnerships and collaboration are fundamental to how we work. Our solutions are based on direct input from the world's leading aviation organisations and working together to benchmark where they are and drive continuous improvements across their efficiency, safety and compliance.
We run regular partner events, providing opportunities to network and share ideas, perspectives and best practice. It's all part of our unique and proactive commitment to our global partner network and helping to address common industry challenges and opportunities.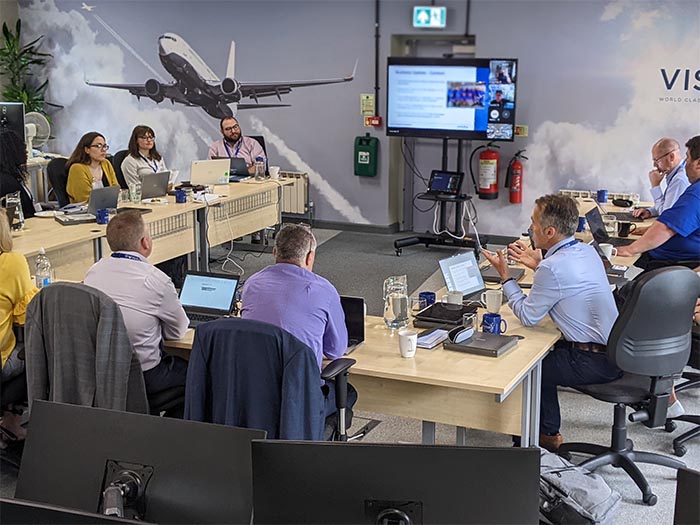 Our People
We continuously invest in our people and culture because it demonstrably improves outcomes for our partners. We take great pride in our exceptional team and purpose-driven mindset. We always seek fresh perspectives and insights from them, our partner network, the aviation industry, and other sectors, ensuring that we continually refine and improve our service to best support our partners.
20+
Years' Pioneering Spirit
Working together to drive ever higher levels of

Safety, Efficiency and Compliance