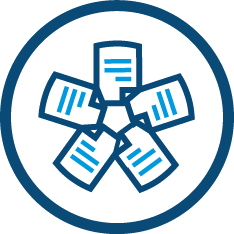 Airline Document Management System
DocuNet™
What is DocuNet™
The aviation industry's leading airline document management system to manage operational documentation.
DocuNet™ is the most powerful content management and distribution solution capable of delivering your operational library and all mission critical content across all platforms, including Airbus and Boeing as well as Bombardier and Embraer fleets.
DocuNet™ is the only airline document management system currently used by more than 40 airlines worldwide and with more than 2,000 manuals under management.
Discover how a partnered document management solution can improve airline operational efficiency.




How it works
All flight operations documents: OEM documents such as MEL, QRH, FCOM and Company manuals are adopted by the Vistair structured data platform

Updates are published seamlessly to all users and all devices including EFB and all mobile devices/apps

DocuNet™ routinely delivers updates to Boeing EDB, Airbus LPC/OLB and other EFB formats

On-demand access to users in the cockpit or cabin, and automatically highlights all updates, changes and revisions

Pilots and crew can view, search and annotate manuals digitally via mobile devices

Personalised notes and annotations are update-resilient and shared across all platforms